Post publication on your blog is just the beginning. Now you have to inform about this entire Internet. Of course, you can use social media, RSS feeds, mails etc – but there is one more way, especially for WordPress.
Ping list is a collection of special server addresses which indexes what new is on Internet. As faster they "know" about your new entry in blog, the faster blog will be visible in search engines – so is worth it!
How to add this ping list to WordPress? It's easy. Find on your left administration menu label "Settings" and choose option "Writing"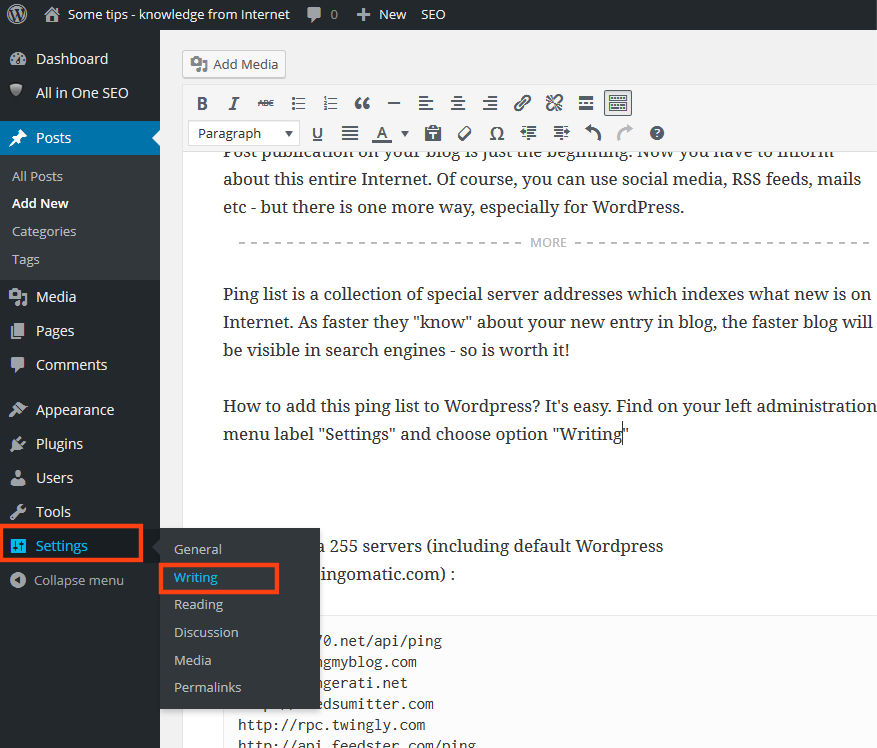 Next, on the bottom you can find text area with descripiton "Update Services", there you can copy-paste ping servers list. After all, just click "Save Changes".

So, there is a 255 servers (including default WordPress server rpc.pingomatic.com). Copy and enjoy!
http://1470.net/api/ping
http://pingmyblog.com
http://pingerati.net
http://feedsumitter.com
http://rpc.twingly.com
http://api.feedster.com/ping
http://api.feedster.com/ping.php
http://api.moreover.com/ping
http://api.moreover.com/RPC2
http://api.my.yahoo.com/RPC2
http://api.my.yahoo.com/rss/ping
http://bitacoras.net/ping
http://ipings.com
http://blogdb.jp/xmlrpc
http://blog.goo.ne.jp/XMLRPC
http://blogsearch.google.com/ping/RPC2
http://blogmatcher.com/u.php
http://bulkfeeds.net/rpc
http://coreblog.org/ping/
http://geourl.org/ping
http://mod-pubsub.org/kn_apps/blogchatt
https://phobos.apple.com/WebObjects/MZFinance.woa/wa/pingPodcast
http://ping.amagle.com/
http://ping.bitacoras.com
http://ping.bloggers.jp/rpc/
http://ping.blogmura.jp/rpc/
http://ping.blo.gs/
http://blo.gs/ping.pgp
http://ping.cocolog-nifty.com/xmlrpc
http://pinger.blogflux.com/rpc/
http://ping.exblog.jp/xmlrpc
http://ping.feedburner.com
http://ping.myblog.jp
http://pingqueue.com/rpc/
http://ping.blogg.de/
http://ping.rootblog.com/rpc.php
http://ping.syndic8.com/xmlrpc.php
http://ping.weblogalot.com/rpc.php
http://ping.weblogs.se/
http://rcs.datashed.net/RPC2/
http://rpc.blogbuzzmachine.com/RPC2
http://rpc.blogrolling.com/pinger/
http://rpc.britblog.com/
http://rpc.icerocket.com:10080/
http://rpc.newsgator.com/
http://rpc.pingomatic.com/
http://rpc.tailrank.com/feedburner/RPC2
http://rpc.technorati.com/rpc/ping
http://rpc.weblogs.com/RPC2
http://rpc.wpkeys.com/
http://services.newsgator.com/ngws/xmlrpcping.aspx
http://signup.alerts.msn.com/alerts-PREP/submitPingExtended.doz
http://topicexchange.com/RPC2
http://trackback.bakeinu.jp/bakeping.php
http://www.a2b.cc/setloc/bp.a2b
http://www.bitacoles.net/ping.php
http://www.blogdigger.com/RPC2
http://www.blogoole.com/ping/
http://www.blogoon.net/ping/
http://www.blogpeople.net/servlet/weblogUpdates
http://www.blogroots.com/tb_populi.blog?id=1
http://www.blogshares.com/rpc.php
http://www.blogsnow.com/ping
http://www.blogstreet.com/xrbin/xmlrpc.cgi
http://www.holycowdude.com/rpc/ping/
http://www.lasermemory.com/lsrpc/
http://www.imblogs.net/ping/
http://www.mod-pubsub.org/kn_apps/blogchatter/ping.php
http://www.newsisfree.com/RPCCloud
http://www.newsisfree.com/xmlrpctest.php
http://www.popdex.com/addsite.php
http://www.snipsnap.org/RPC2
http://www.weblogues.com/RPC/
http://xmlrpc.blogg.der
http://bblog.com/ping.php
http://rpc.shareapost.com/
http://rpc.pingomatic.com
http://xmlrpc.blogg.de
http://xping.pubsub.com/ping/
http://rpc.copygator.com/ping/
http://rpc.odiogo.com/ping/
http://a2b.cc/setloc/bp.a2b
http://api.mw.net.tw/RPC2
http://api.my.yahoo.co.jp/RPC2
http://api.my.yahoo.com/ping
http://audiorpc.weblogs.com/RPC2
http://bblog.comping.php
http://bitacoles.net/notificacio.php
http://bitacoles.net/ping.php
http://bitacoras.net/ping/
http://blo.gs/ping.php
http://blog.goo.ne.jp
http://blog.with2.net/ping.php
http://blogbot.dk/io/xml-rpc.php
http://blogdb.jp
http://blogdigger.com/RPC2
http://blogoole.com/ping
http://blogoon.net/ping
http://blogpeople.net/ping
http://blogping.unidatum.com/RPC2/
http://blogroots.com/tb_populi.blog?id=1
http://blogsdominicanos.com/ping
http://blogsearch.google.ae/ping/RPC2
http://blogsearch.google.at/ping/RPC2
http://blogsearch.google.be/ping/RPC2
http://blogsearch.google.bg/ping/RPC2
http://blogsearch.google.ca/ping/RPC2
http://blogsearch.google.ch/ping/RPC2
http://blogsearch.google.cl/ping/RPC2
http://blogsearch.google.co.cr/ping/RPC2
http://blogsearch.google.co.hu/ping/RPC2
http://blogsearch.google.co.id/ping/RPC2
http://blogsearch.google.co.il/ping/RPC2
http://blogsearch.google.co.in/ping/RPC2
http://blogsearch.google.co.it/ping/RPC2
http://blogsearch.google.co.jp/ping/RPC2
http://blogsearch.google.co.ma/ping/RPC2
http://blogsearch.google.co.nz/ping/RPC2
http://blogsearch.google.co.th/ping/RPC2
http://blogsearch.google.co.uk/ping/RPC2
http://blogsearch.google.co.uk/pingRPC2
http://blogsearch.google.co.ve/ping/RPC2
http://blogsearch.google.co.za/ping/RPC2
http://blogsearch.google.com.ar/ping/RPC2
http://blogsearch.google.com.au/ping/RPC2
http://blogsearch.google.com.br/ping/RPC2
http://blogsearch.google.com.co/ping/RPC2
http://blogsearch.google.com.do/ping/RPC2
http://blogsearch.google.com.mx/ping/RPC2
http://blogsearch.google.com.my/ping/RPC2
http://blogsearch.google.com.pe/ping/RPC2
http://blogsearch.google.com.sa/ping/RPC2
http://blogsearch.google.com.sg/ping/RPC2
http://blogsearch.google.com.tr/ping/RPC2
http://blogsearch.google.com.tw/ping/RPC2
http://blogsearch.google.com.ua/ping/RPC2
http://blogsearch.google.com.uy/ping/RPC2
http://blogsearch.google.com.vn/ping/RPC2
http://blogsearch.google.de/ping/RPC2
http://blogsearch.google.es/ping/RPC2
http://blogsearch.google.fi/ping/RPC2
http://blogsearch.google.fr/ping/RPC2
http://blogsearch.google.gr/ping/RPC2
http://blogsearch.google.hr/ping/RPC2
http://blogsearch.google.ie/ping/RPC2
http://blogsearch.google.in/ping/RPC2
http://blogsearch.google.it/ping/RPC2
http://blogsearch.google.jp/ping/RPC2
http://blogsearch.google.lt/ping/RPC2
http://blogsearch.google.nl/ping/RPC2
http://blogsearch.google.pl/ping/RPC2
http://blogsearch.google.pt/ping/RPC2
http://blogsearch.google.ro/ping/RPC2
http://blogsearch.google.ru/ping/RPC2
http://blogsearch.google.se/ping/RPC2
http://blogsearch.google.sk/ping/RPC2
http://blogsearch.google.tw/ping/RPC2
http://blogsearch.google.us/ping/RPC2
http://blogshares.com/rpc.php
http://blogsnow.com/ping
http://blogstreet.com/xrbin/xmlrpc.cgi
http://blogupdate.org/ping/
http://blogupdate.org/sverige/ping/
http://bulkfeeds.net
http://catapings.com/ping.php
http://coreblog.org/ping
http://cullect.com/feed/ping
http://effbot.org/rpc/ping.cgi
http://feedsky.com/api/RPC2
http://fgiasson.com/pings/ping.php
http://focuslook.com/ping
http://hamo-search.com/ping.php
http://holycowdude.com/rpc/ping
http://imblogs.net/ping
http://j-ranking.com/ping.cgi
http://lasermemory.com/lsrpc
http://mod-pubsub.org
http://mod-pubsub.org/knapps/blogchatt
http://mod-pubsub.org/ping.php
http://newsblog.jungleboots.org/ping.php
http://newsisfree.com/RPCCloud
http://packetmonster.net/xmlrpc.php
http://ping.amagle.com
http://ping.blo.gs
http://ping.blogg.de
http://ping.bloggers.jp/rpc
http://ping.blogoon.net/
http://ping.blogs.yandex.ru/RPC2
http://ping.fakapster.com/rpc
http://ping.fc2.com/
http://ping.feeds.yahoo.com/RPC2/
http://ping.gpost.info/xmlrpc
http://ping.kutsulog.net/
http://ping.namaan.net/rpc
http://ping.snap.com/ping/RPC2
http://ping.speenee.com/xmlrpc
http://ping.weblogs.se
http://ping.wordblog.de
http://pinger.blogflux.com/rpc
http://pinger.onejavastreet.com
http://pingoat.com/
http://pingoat.com/goat/RPC2
http://pingqueue.com/rpc
http://popdex.com/addsite.php
http://queerfilter.com/ping
http://r.hatena.ne.jp/rpc
http://rcs.datashed.net
http://rcs.datashed.net/RPC2
http://rpc.bloggerei.de/ping/
http://rpc.blogrolling.com/pinger
http://rpc.britblog.com
http://rpc.icerocket.com:10080
http://rpc.newsgator.com
http://rpc.reader.livedoor.com/ping
http://rpc.technorati.jp/rpc/ping
http://rpc.wpkeys.com
http://rssfeeds.com/suggest_wizzard.php
http://rssfwd.com/xmlrpc/api
http://serenebach.net/rep.cgi
http://snipsnap.org/RPC2
http://syndic8.com/xmlrpc.php
http://thingamablog.sourceforge.net/ping.php

http://wasalive.com/ping http://weblogues.com/ping/ http://weblogues.com/RPC http://www.a2b.cc http://www.bloglines.com/ping http://www.blogoon.net/ping http://www.blogpeople.net http://www.blogroots.com http://www.blogroots.com/tbpopuli.blog?id=1 http://www.blogsdominicanos.com/ping/ http://www.catapings.com/ping.php http://www.feedsky.com/api/RPC2 http://www.feedsubmitter.com http://www.lasermemory.com http://www.lasermemory.com/lsrpc http://www.mod-pubsub.org/knapps/blogchatter/ping.php http://www.mod-pubsub.org/ping.php http://www.octora.com/add_rss.php http://www.pingerati.net http://www.pingmyblog.com http://www.popdex.com http://www.snipsnap.org http://www.wasalive.com/ping/ http://www.weblogalot.com/ping http://www.weblogues.com http://www.weblogues.com/RPC http://www.xianguo.com/xmlrpc/ping.php http://www.zhuaxia.com/rpc/server.php http://xianguo.com/xmlrpc/ping.php http://xping.pubsub.com/ping http://zhuaxia.com/rpc/server.php http://zing.zingfast.com